Wednesday Fellowship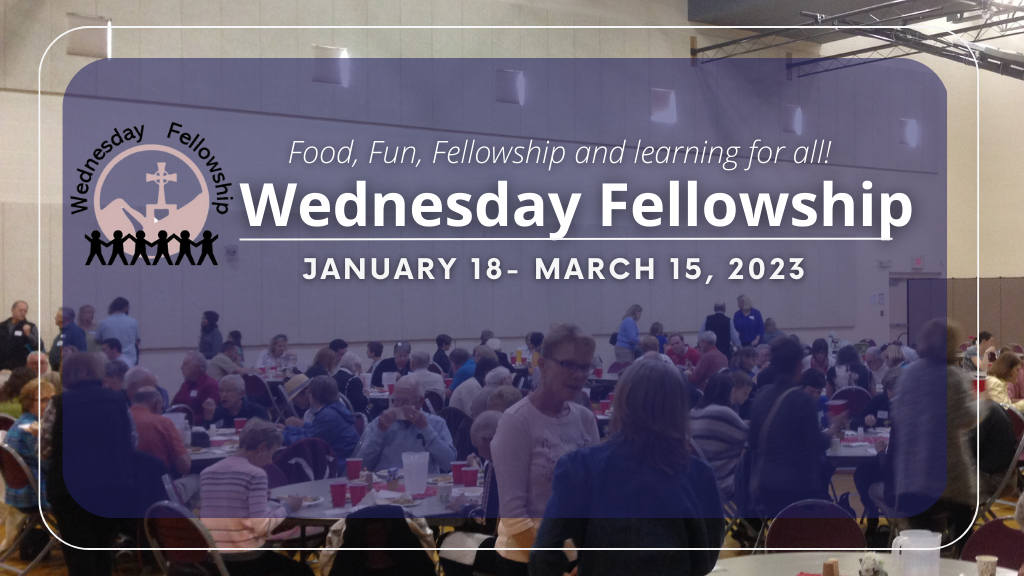 Wednesday Fellowship resumes January 18th and ends March 15th!


Wednesday Fellowship nights are special times for food, community, fun, and study, offering you and your family the opportunity to deepen your sense that SPC is truly your "church home."
Dinner is served at 5:45pm in the Gym followed by class offerings or programs for all ages at 6:30pm. There is a suggested donation of $5 per person or $20 max per family for dinner.
For adults, we are offering four classes:
Bible Study on the Book of Acts with Pastor Doug. Study Acts to learn how the Holy Spirit empowered believers to share the good news of Jesus Christ among both Jews and Gentiles to establish the church.
Emotionally Healthy Relationships with Pastor Jeff. This class will deepen your relationship with Jesus through spiritual practices and equip you with eight practical relationship skills to develop mature, loving relationships with others. In between classes there are individual exercises and daily devotions.

This class meets for two hours from 6:30–8:30pm.

The cost is $20 for books.

Check out the trailer for the class for more information.

The Meaning of Marriage: Facing the Complexities of Commitment with the Wisdom of God with Rick & Ronnie Thomson.

This class is a study and discussion of The Meaning of Marriage by Tim Keller.

Using the Bible as his guide, coupled with insightful commentary from his wife Kathy, Tim Keller demonstrates that marriage is meant to bring us closer to God. Marriage is a glorious relationship that is also misunderstood and mysterious.

Recognizing that couples are living in a much-changed culture, with completely different pressures and desires from those of previous generations, Keller provides a refreshing change from the patriarchal tone of many other Christian marriage books.

Our Salvation Includes All of Creation with Rev. Dewey Johnson and Marlin Johnson.

This is a 4-week class from January 18 to February 8.

The Bible maintains

that the whole of creation is included in God's salvation. A scriptural study of nature's place in the scheme of things will be the focus of the first two classes. In the third class, we will cover how humankind is doing today, from global warming to plastic pollution, loss of forests, soil depletion and more. In the final class we will discuss actions that individuals and groups can take to minimize impacts on the global environment.
For youth, there is Youth Group every Wednesday evening from 6:30 to 8:30pm for a time of fun and fellowship. In Youth Group, we talk about Jesus and apply his teachings to our everyday lives. Youth are always welcome, and encouraged to bring their friends.
For children, there are different offerings based on age for the most appropriate learning environment:
Elementary children

will be challenged to grow deeper in their relationship with Christ. They will be studying about how to become prayer warriors and have game time too!

For babies through Pre-K, childcare is available with learning centers, Bible stories, and fun activities and games.
There will be no classes on Wednesday, February 22. On February 22, we will gather for dinner as usual and then begin the season of Lent with an Ash Wednesday Worship Service. Our Ash Wednesday service is a multi-generational experience for kids, youth, and adults.